Legislative Reports and District Maps
Find your district's report or use the interactive maps below.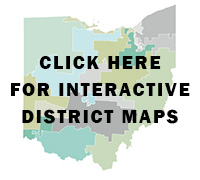 ---
---
District Reports:
---
---
---
Legislative News
OHFA tracks housing legislation at the federal and state level. Some of the legislation has the ability to directly impact OHFA and our programs, while others would have a larger impact on our affordable housing stakeholders. As a leader in affordable housing policy in Ohio, we feel it is important to provide timely information to Ohio's congressional delegation and members of the General Assembly on the critical issues facing the housing industry and to explain how certain legislative provisions will affect us collectively.
If you have questions please contact Guy Ford:
Guy Ford
Director of Legislative Affairs
Ohio Housing Finance Agency
2600 Corporate Exchange Dr.
Columbus, OH 43231
614.995.1092
---
Ohio Housing Trust Fund
Visit our Ohio Housing Trust Fund webpage to learn how this program has helped low-income Ohioans access safe and affordable housing for more than 25 years.