As home prices rise, fewer Ohioans are able to buy a home, pushing them into rental markets with little housing security and no ability to build wealth. However, there have been an increasing number of housing options providing a "third way" between owning and renting. Blending the benefits of the two, these alternatives combine legal control and management of property with opportunities to grow equity and preserve long-term affordability.
"Third way" tenures come in various forms:
Community Land Trusts (CLTs) are local nonprofits that own land that is committed to permanent affordability. CLTs lease land long term to residents who may own or rent homes on the property.
A limited-equity cooperative, or co-op, is a housing community in which several households collectively own and govern a multifamily property. They have similar affordability controls to CLTs.
Cohousing refers to an intentional clustering of private homes around a shared space that forms a community. Residents are encouraged to share meals and other regularly-scheduled group activities.
Lease-purchase or rent-to-own housing enables residents to rent their home with either the option or requirement to purchase over time. Typically a portion of the rent payment is applied to the purchase price.
The infographic below shows Ohio counties where "third way" tenure options already exist or are in development.
Click to view/download the PDF for the infographic.
---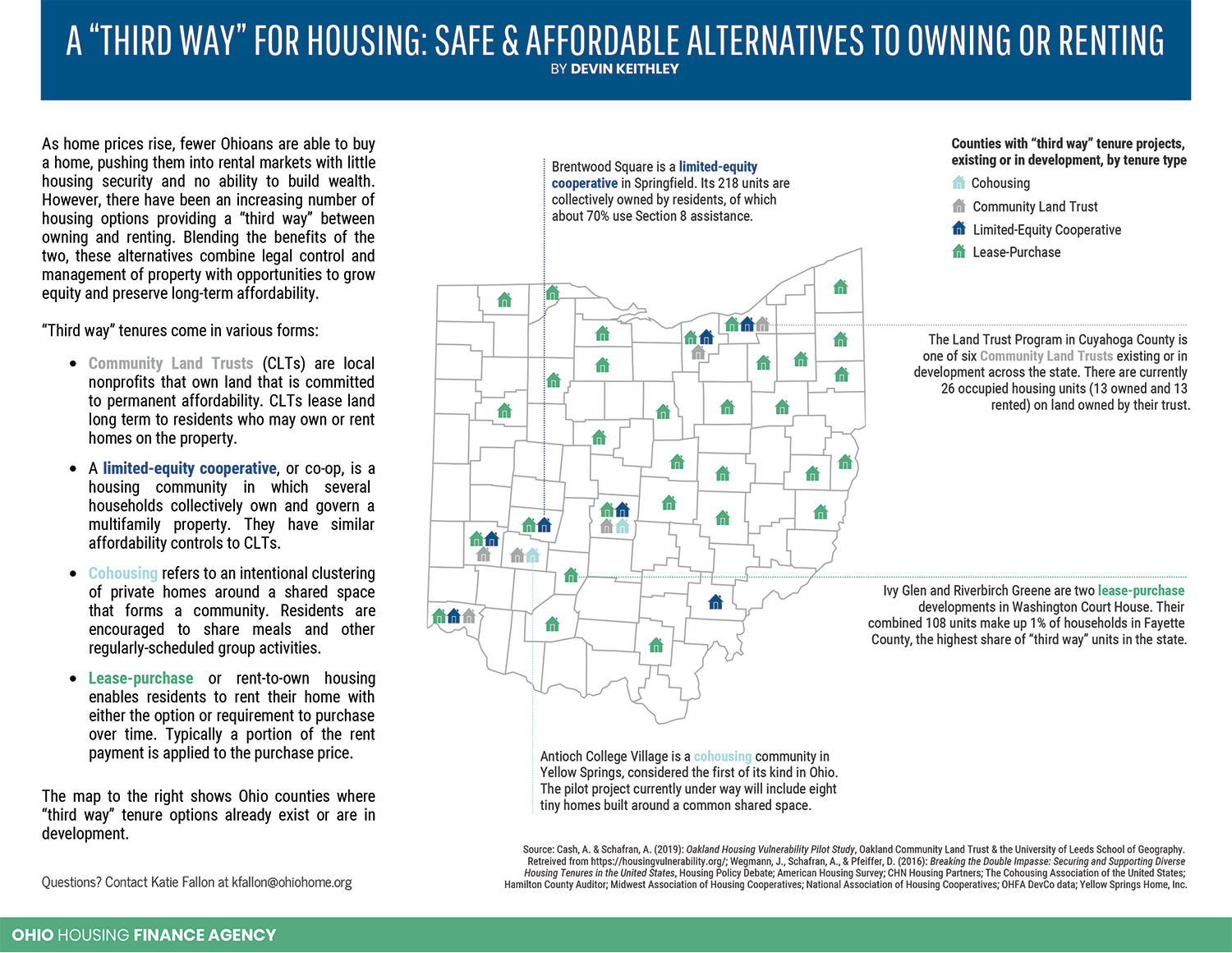 ---
Source: Cash, A. & Schafran, A. (2019): Oakland Housing Vulnerability Pilot Study, Oakland Community Land Trust & the University of Leeds School of Geography. Retrieved from https://housingvulnerability.org/; Wegmann, J., Schafran, A., & Pfeiffer, D. (2016): Breaking the Double Impasse: Securing and Supporting Diverse Housing Tenures in the United States, Housing Policy Debate; American Housing Survey; CHN Housing Partners; The Cohousing Association of the United States; Hamilton County Auditor; Midwest Association of Housing Cooperatives; National Association of Housing Cooperatives; OHFA DevCo data; Yellow Springs Home, Inc.