In 2018 governors across the United States selected census tracts to be designated as Opportunity Zones. As part of a federal tax incentive created by the Tax Cuts and Jobs Act of 2017 to spur private investment in economically-distressed communities, OZs were chosen through a two-step process. In Ohio 1,647 census tracts were identified as eligible. Then, former Governor John Kasich had to select no more than 25% of these tracts as OZs.
The maps and figures included compare the designated and eligible non-designated tracts and their populations geographically, demographically and economically. The 320 selected tracts are well distributed across the state (Fig. 1). The population living in OZs is also split relatively evenly between urban, suburban and rural communities (Fig. 2).
Currently one in 12 Ohioans (955,613) live in an OZ. One in three Ohioans (34.5%) living in an OZ fall below the federal poverty level, higher than the rate in eligible non-designated tracts (Fig. 3). Ohio's OZs are also more racially and ethnically diverse (Fig. 4). This suggests the selection of these tracts was appropriately aimed to spur investment toward the parts of the state that have historically been the most economically disadvantaged and experienced the most disinvestment.
As clarity on Opportunity Zone regulations continues to roll out, it will be important to track how the intended capital investment changes local prosperity.
Click to view/download the PDF for the infographic.
---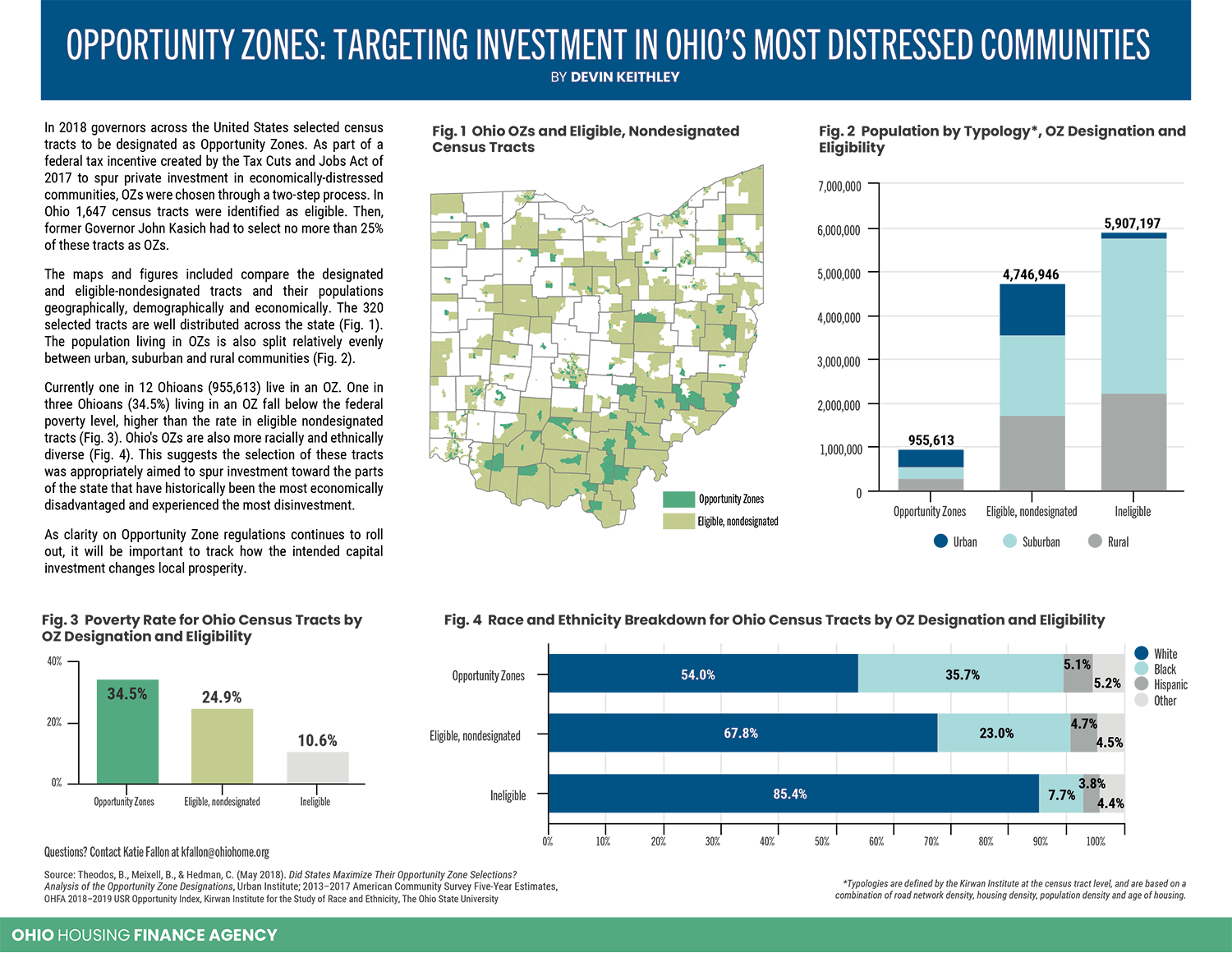 ---
Source: Theodos, B., Meixell, B., & Hedman, C. (May 2018). Did States Maximize Their Opportunity Zone Selections? Analysis of the Opportunity Zone Designations, Urban Institute; 2013–2017 American Community Survey Five-Year Estimates, OHFA 2018–2019 USR Opportunity Index, Kirwan Institute for the Study of Race and Ethnicity, The Ohio State University