Columbus's population is projected to grow by nearly one million by 2050. As population grows, Columbus will likely face increasing challenges to maintain affordable and available housing. Other states and cities facing similar growth, such as Oregon and Minneapolis, have re-evaluated or changed their single-family zoning codes to promote greater housing choice and affordability. These models could provide potential pathways to ensure Columbus remains sustainable and affordable, even as the population expands.
Zoning dictates what can and cannot be built in certain areas. Zoning regulations have many different goals, such as ensuring there is sufficient parking and keeping homes far from unsafe factories or sewage waste sites. Zoning requirements, however, can also have unintended negative consequences, such as exacerbating segregation or artificially limiting the supply of housing. Thus, it is important to examine local zoning codes to ensure they are adequately addressing the current needs of the region.
Common zoning for cities include requirements for single-family and multifamily structures. Generally, single-family zoning was developed in the 1950s and limited housing to a single family per unit. Single family zoning also frequently mandates large lot sizes, height limitations, and provides space for lawns, garages and setbacks from the street. In contrast to multifamily zoning, which allows for housing such as apartment buildings, duplexes, etc., single-family zoning reduces urban density and limits the number of people who can live in an area. Similarly, single-family zoning can encourage segregation and economic inequality between regions by legally limiting the number of multiple-unit homes in higher income neighborhoods. Maintaining single-family zoning restrictions in cities can inadvertently limit growth and encourage inequitable local development.
The map below shows the spatial breakdown of single-family and multifamily zoning permitted within the city of Columbus. The single-family zoning areas allow only one single-family dwelling for residential use; the multifamily zoning areas allow two-family dwelling units or more for residential use. The map shows nearly 50 square miles more single-family than multifamily zoning. This suggests that if the current zoning guidelines stay in place, Columbus will be limited in where it can build additional housing to accommodate population growth.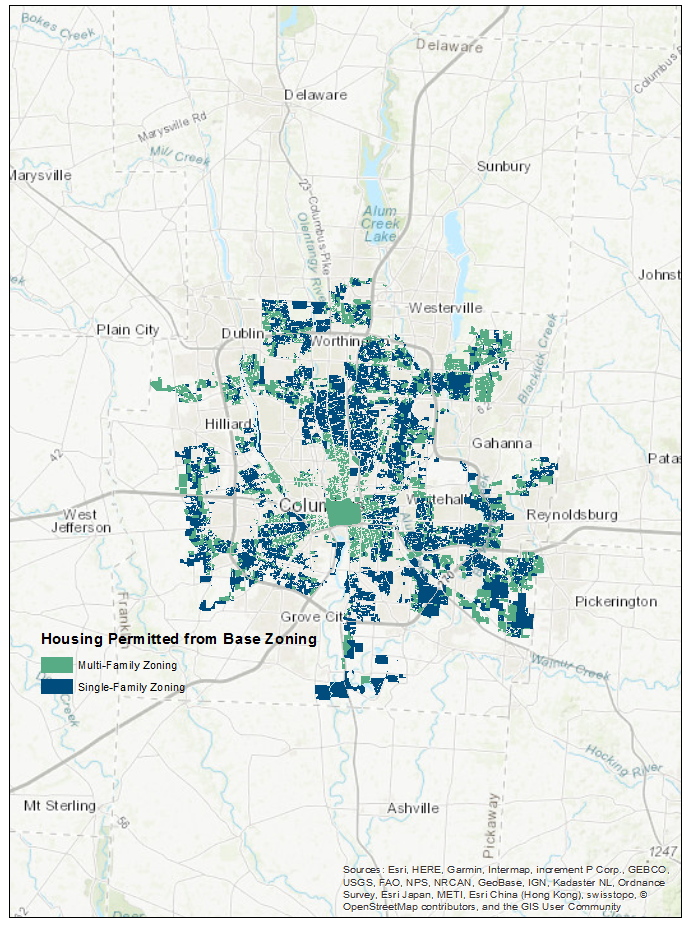 Housing supply inherently affects housing affordability. If there is limited housing supply that is further burdened by the inability to build multifamily units, prices for housing can increase in ways that are particularly harmful to lower-income families. Thus 'artificial scarcity' of housing in low-density areas can artificially drive up housing costs.
Zoning-related strategies can improve housing affordability. For example, relaxing the density restriction in single-family zones can spread the cost of land across multiple units. Similarly, planning tools such as overlay zoning and planned unit development increase the flexibility of zoning codes when used. In order to sustainably meet the demands of a growing population, Columbus must consider the limitations and barriers of our existing single-family zoning.