For Dorothy, Calvin and Marvin, living in a place that fit their needs and that they could truly call home was a blessing. After 11 years, they finally found a perfect place and community at Griot Village in Cleveland.
The Cuyahoga Metropolitan Housing Authority (CMHA) provides housing for 55,000 people across Cuyahoga County in over 10,000 housing units. When they heard of the Fairfax Renaissance Development Corporation's (FRDC) idea for intergenerational housing, they knew the purpose-filled project would be a perfect fit.
Intergenerational housing is a complex that serves both seniors and younger children or adults. This purpose-filled housing fulfills a particular need in this community; FRDC saw the lack of suitable housing for seniors raising children in Cuyahoga County and decided to create a housing development that provided resources for both younger and older generations. After over six years of work, Griot Village has made that dream a reality. This development is one of only seven of its kind across the entire United States.
For one of these families, Griot Village was absolutely necessary. Dorothy adopted Calvin and Marvin, and for 11 years, the family lived in high-rise apartment complexes. When they walked out of their front door, they saw rows of doors and apartment units. Late at night, Dorothy worried about the young boys walking home from work in not-so-safe neighborhoods. When they learned of Griot Village, they were excited to finally live in a place they could feel secure and peaceful.
Donovan Duncan, the Development Director for CMHA, realized at a young age how impactful this kind of housing could be. Duncan grew up in public housing and lived with his grandmother, and this type of housing, he says, "supports the quality of life for both segments of the population." The development was made possible through housing tax credits provided by the Ohio Housing Finance Agency (OHFA), as well as through the hard work of CMHA, FRDC and other local organizations.
Griot Village provides 40 units of housing and partners with 15 to 20 organizations, including Cleveland Clinic and Case Western University. Graduates from the university and local churches work within the development to help children with their homework. Cleveland Clinic provides free health education and resources to residents. In fact, Griot Village is within a mile from local schools, hospitals, recreation parks and other public services, which allows senior residents to age-in-place and gives younger residents access to opportunities in their community.
"It's the first development of its kind in the state of Ohio," says Denise VanLeer, the Executive Director of FRDC. "I think Griot Village speaks to a need. And the need just continues to grow."
As some of the older boys in the village, Calvin and Marvin know the younger children look to them as role models. Both attend college at Kent State University and work part-time jobs. When they see younger children in the neighborhood, they help them and lead by example, showing them how to work hard, go to school and build a successful future.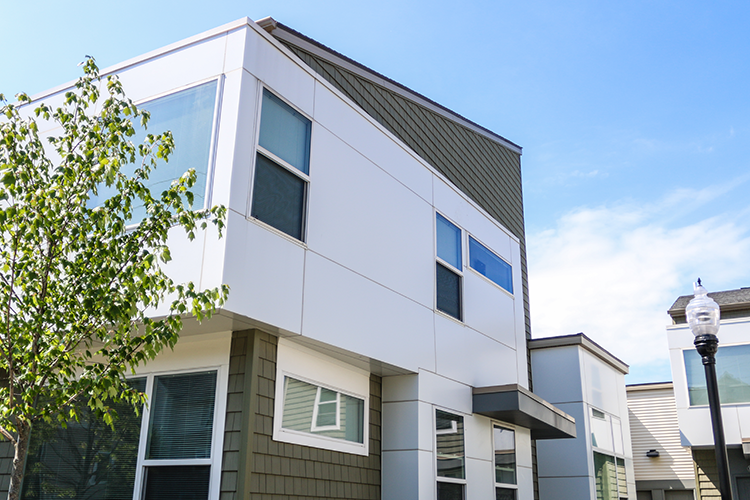 The best part about Griot Village, the family agrees, is the sense of community, and the staff are an integral part of that caring community. With their help, Marvin even landed an internship working with CMHA.
Mostly, the boys are happy to have their own space and a safe place to live with Dorothy. The cabinets are low enough for her to reach as she cooks, and the boys don't have to share a room anymore. Calvin produces music in his bedroom, his desk set up as a production studio with speakers and turn tables, and Marvin runs around the village, conditioning for track. For Dorothy, home is a place to relax and rest at the end of the day, a place for peace and quiet. For Calvin, it's something a little different.
"Home is a sense of belonging. No matter where you go... home is that one place that you can go, and no one can tell you that you don't belong here."
And finally, at Griot Village, this family feels like they belong.