Interested in helping Ohioans gain access to quality, affordable housing? Then a rewarding career with the Ohio Housing Finance Agency may be right for you. To find out more about currently available opportunities, please click on a job title below and follow the instructions to submit your application.
Job Openings at OHFA
---
State of Ohio Career Opportunities
---
Application Tips
---
EEO Employer
The Ohio Housing Finance Agency is an Equal Employment Opportunity (EEO) employer and does not discriminate on the basis of race, color, religion, gender/sex, gender identity or expression, national origin (ancestry), military status, disability, age (40 years of age or older), genetic information, sexual orientation, status as a parent during pregnancy and immediately after the birth of a child, status as a parent of a young child, or status as a foster parent as those are defined in applicable Ohio law, federal law, and any Executive Order, in admission or access to the operation of its programs, services, activities or its own employment practices. Employment practices are any employment related decisions including, but not limited to hiring, layoff, transfer, termination, promotion, demotion, discipline, rate of compensation, eligibility for in-service training programs, or terms and conditions of employment.
For more information on your rights please view the "Know Your Rights Brochure" and/or contact Gina Scheiderer at gscheiderer@ohiohome.org.
---
Americans with Disabilities Act (ADA)
The Ohio Housing Finance Agency is committed to providing access and inclusion and reasonable accommodation in its services, activities, programs, and employment opportunities in accordance with the Americans with Disabilities Act (ADA) and other applicable laws. To request a reasonable accommodation due to a disability please contact Gina Scheiderer, ADA Coordinator, or gscheiderer@ohiohome.org no later than 14 days before scheduled event.
To view our Disability Inclusion Poster or to file a grievance, click the appropriate link below: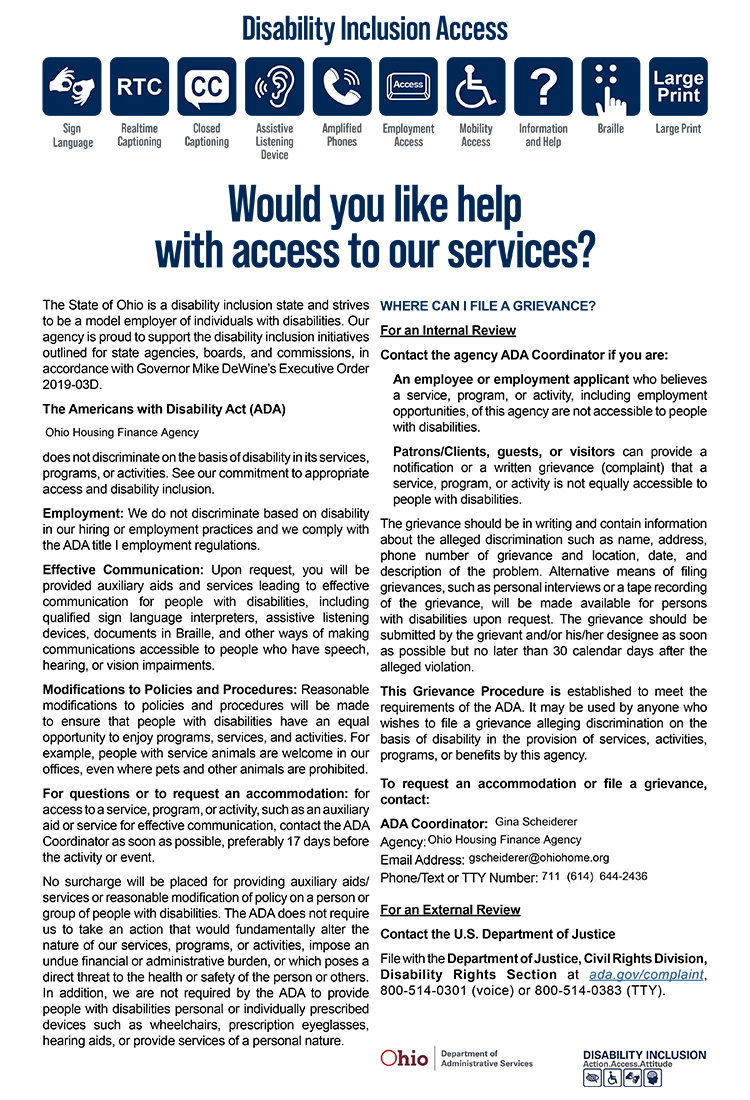 ---
Questions?
If you have any questions concerning an available position, please contact:
Human Resources
Ohio Housing Finance Agency
2600 Corporate Exchange Dr.
Columbus, OH 43231
614.466.2252