Meet the Office of Housing Policy
The Office of Housing Policy coordinates a wide range of research and strategic planning activities that ensure our program offices are efficient, well-informed and able to best meet the needs of low- and moderate-income Ohioans.
---
Katie Fallon, Ph.D.
Prior to coming to OHFA in January 2018, Katie worked on housing and community-equity issues at the Rockefeller Foundation and at Nica HOPE, an NGO in Managua, Nicaragua. At OHFA, Katie directs the Office of Housing Policy's research and policy-oriented work, including writing the Annual Plan, coordinating many of OHFA's housing-related grants and guiding the Ohio Human Services Data Warehouse. Katie has a Bachelor's in Public Policy, International Affairs and Urban Studies from the Woodrow Wilson School at Princeton University, where she focused on land tenure issues. She has a Ph.D. in Sociology from the University of Wisconsin–Madison. Her dissertation focused on issues of geo-spatial mobility, racial equity and resource access in Brooklyn, New York.
---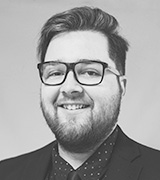 Cody R. Price, Ph.D.
Cody also started at OHFA in January 2018 after spending a semester as a Visiting Assistant Professor at Ohio State. Cody assists the Office of Housing Policy with his specialization in survey research methods by investigating a wide variety of issues related to affordable housing, ranging from implications of the Violence Against Women Act to a survey of Housing Tax Credit tenants to case studies of housing for low-income, LGBTQ older adults. He is also the host of OHFA's podcast, Doorsteps. Cody has a Bachelor's in City and Regional Planning from The Ohio State University, a Master's of Public Service and Administration from Texas A&M University and a Ph.D. in City and Regional Planning from The Ohio State University. Cody's dissertation, Alleviating Affordable Housing Stigma by Design, was awarded the 2018 Patricia Burgess Award for Best Dissertation from the Knowlton School of Architecture.
Twitter: @DrCodyRPrice
LinkedIn Profile
---
Devin Keithley
Prior to joining OHFA in September 2017, Devin served as a Senior Research Associate with Community Research Partners. His role at OHFA is to monitor the agency's data systems for quality and accuracy, develop and maintain agency dashboards for strategic planning purposes and assist with data collection and analysis on various research projects and annual reports. Beyond his day-to-day responsibilities, Devin is an experienced graphic designer with a specialization in creative data visualizations, some of which are featured on OHFA's blog, Stories of Home. Devin has a Bachelor's in Geography from Bucknell University, a Master's in Geography from The George Washington University and a Master's in City and Regional Planning from The Ohio State University.