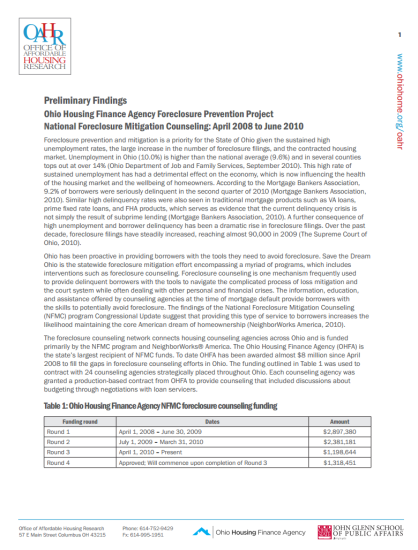 Ohio Housing Finance Agency Foreclosure Mitigation Counseling
The National Foreclosure Mitigation Counseling (NFMC) program provides funding for housing counseling services for homeowners facing mortgage foreclosure. The Ohio Housing Finance Agency (OHFA) is the state's largest recipient of NFMC funding, with over $8 million awarded since April 2008. OHFA uses NFMC funds to contract with local housing counseling agencies that are located strategically throughout the state. Since April 2008, OHFA grantees have utilized NFMC funding to provide counseling services to over 19,000 Ohioans facing mortgage distress. A large number of clients receiving assistance from OHFA grantees were located in places where the foreclosure crisis was most severe, such as Cuyahoga and Summit Counties. However, the program assisted homeowners throughout the state, with OHFA clients representing 87 of 88 counties in the Ohio. Due to the often tedious nature of foreclosure mitigation, it is difficult to measure the outcomes of the counseling efforts at this time. However, a number of clients of OHFA grantees have seen positive results following NFMC counseling interventions, and less than two percent of clients stated that their homes had been foreclosed at the time of reporting.
---
Preliminary Findings for OHFA's Foreclosure Prevention Project: April 2008 through June 2010
---
For more information about this analysis, please contact Holly Holtzen.